Intel's Raptor Lake Desktop CPUs is launching later this year to tackle AMD's Zen 4 'Raphael' schedule, and it seems like SiSoftware (the page is removed) has once again managed to publish a mini-review of a Core i9-13900 CPU with 24 cores and 32 threads in an early engineering state against Intel's Alder Lake & AMD Zen 3 chips.
The 13th Generation Intel Raptor Lake CPUs will be blow-dry the new Raptor Cove P-Cores and Gracemont (E-Cores) in an optimized 10nm (Intel 7+) package. Relate to Intel's Alder Lake CPUs, and the Raptor Lake chips will also come with a host of advances, just more cores and clock speeds. These consist of:
It supports up to DDR5-5600 memory (JEDEC)
Possess 20% Larger L3 cache (Up To 36 MB Unified)
2x Larger L2 supply (Up To 32 MB)
It offers an excellent Support for AVX/AVX2 on E-Cores
No Support For AVX-512 (Just Like Alder Lake-S)
The Raptor Lake CPU model tested is an Intel Core i9-13900 that contains configuration 8 P-Cores and 16 E-Cores for 24 cores and 32 threads. The chip will operate at the highest clock speeds of 3.7 GHz for the P-Cores and 2.76 GHz for the E-Cores. It is low than the retail version, which provides over 5.5 GHz speeds as declared in a range of leaks. The CPU is outfitted with 32 MB of L2 cache (8 x 2 MB for P-Cores / 4 x 4 MB for E-Cores) and 36 MB of L3 cache for a total of 68 MB of 'Gaming' cache.
If we talk about its standard or target, it has not been declared what exact arrangement was used or if the memory was running at DDR5-5600 speeds. The experiment data reveals that the outcome is very impressive for an ES chip with such low clock speeds. The Intel Core i9-13900′ Raptor Lake' CPU gives up to a 50% boost above the Intel Core i9-12900 in Whetstone FP32 tests and a notable 2x gain in the FP64 tests. The chip ended up faster than the Intel Core i9-12900 and AMD Ryzen 9 5900X, which benefits the forthcoming assembles.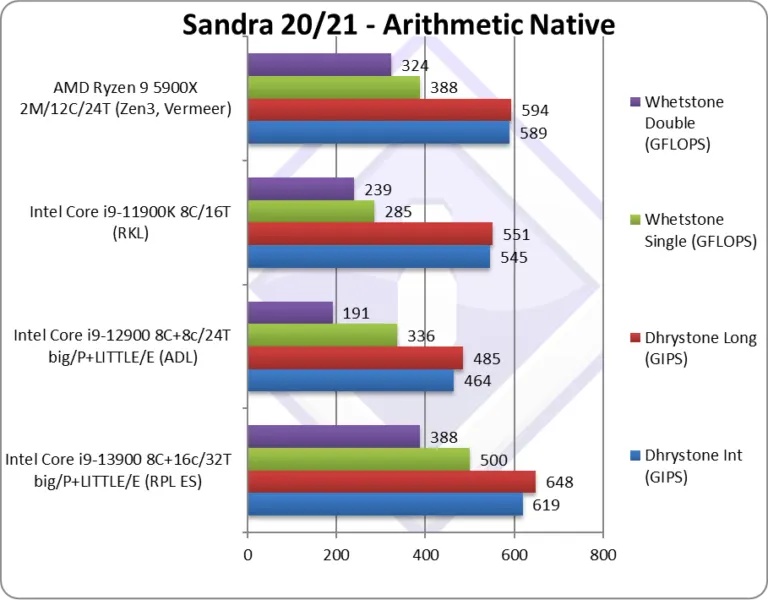 The outcome we mentioned earlier was with non-SIMD code, so entering the SIMD workload section, the overall performance achieved the highest peak. We have analyzed the Intel Raptor Lake Core i9-13900 CPU ending up just 4-6% faster than Alder Lake. The Intel Core i9-11900K carries better performance credit to its AVX-512 ability that is not present in Alder Lake & Raptor Lake CPUs. AMD also proves a massive lead here, and with AVX-512 coming to Zen 4 CPUs, they can have a big lead above Raptor Lake in this exacting section.
Intel Core i9-13900 Raptor Lake Leaked Benchmarks (Credits: SiSoftware)
| NATIVE BENCHMARKS | INTEL CORE I9-13900 8C+16C/32T BIG+LITTLE (RPL) | INTEL CORE I9-12900 8C+8C/24T BIG+LITTLE (ADL) | INTEL CORE I9-11900K 8C/16T (RKL) | AMD RYZEN 9 5900X 12C/24T (ZEN3) | AMD RYZEN 9 5900X 12C/24T (ZEN3) |
| --- | --- | --- | --- | --- | --- |
| Native Dhrystone Integer (GIPS) | 619 [+33%] | 464 | 545 | 589 | RPL is 33% faster than ADL |
| Native Dhrystone Long (GIPS) | 648 [+34%] | 485 | 551 | 594 | A 64-bit integer workload RPL is 34% faster. |
| Native FP32 (Float) Whetstone (GFLOPS) | 500 [+49%] | 336 | 285 | 388 | With floating-point, RPL is 50% faster |
| Native FP64 (Double) Whetstone (GFLOPS) | 388 [+2x] | 191 | 239 | 324 | With FP64 RPL is 2x faster! |
| Native Integer (Int32) Multi-Media (Mpix/s) | 1,945 [-7%] | 2092 | 2000 | 2840 | RPL is 7% slower than ADL here. |
| Native Long (Int64) Multi-Media (Mpix/s) | 730 [+4%] | 705 | 608 | 919 | With a 64-bit, RPL is 4% faster. |
| Native Quad-Int (Int128) Multi-Media (Mpix/s) | 138 [+8%] | 128 | 160 | 173 | Using 64-bit int to emulate Int128 RPL is 8% faster. |
| Native Float/FP32 Multi-Media (Mpix/s) | 2,180 [+4%] | 2089 | 1620 | 2000 | In this floating-point vectorized test RPL is 4% faster |
| Native Double/FP64 Multi-Media (Mpix/s) | 1,116 [+5%] | 1063 | 806 | 1270 | Switching to FP64 RPL is 5% faster |
| Native Quad-Float/FP128 Multi-Media (Mpix/s) | 53 [+6%] | 50 | 35.74 | 53.16 | Using FP64 to mantissa extend FP128 RPL is 6% faster |
table source: wccftech
So, we can sum up that the Intel Raptor Lake Core i9-13900 CPU performs well for its ES state, but here we advise you that it will be better if users wait for the final performance data to show up since clocks do play a significant role in the end. SiSoftware has given the following taglines concerning Raptor Lake for now:
In legacy ALU/FPU experiments, RPL confirms a significant 33-50% improvement over ADL even at lower clocks which are wonderful.
In heavy vectorized/SIMD experiments, RPL observes only 5-8% progress over ADL, which is encouraging but perhaps not a surprise as the extra Atom cores will not give much support. We are waiting for additional standard results to get a better perception.
The huge L2 collective caches (16+16 = 32MB) and the increased L3 (36MB unified) at last matched AMD's Zen3 – but now, with Zen2-3D V-Cache and upcoming Zen4 (1MB L2 per core vs. 512kB), maybe it is not sufficient.
The Intel 13th Generation Raptor Lake Desktop CPUs are estimated to launch later this year and will be supported by the existing LGA 1700/1800 socketed platforms with both DDR5 and DDR4 DRAM support.
Intel Mainstream Desktop CPU Comparison:
| INTEL CPU FAMILY | PROCESSOR PROCESS | PROCESSORS CORES/THREADS (MAX) | TDPS | PLATFORM CHIPSET | PLATFORM | MEMORY SUPPORT | PCI-E SUPPORT | LAUNCH |
| --- | --- | --- | --- | --- | --- | --- | --- | --- |
| Sandy Bridge (2nd Gen) | 32nm | 4/8 | 35-95W | 6-Series | LGA 1155 | DDR3 | PCIe Gen 2.0 | 2011 |
| Ivy Bridge (3rd Gen) | 22nm | 4/8 | 35-77W | 7-Series | LGA 1155 | DDR3 | PCIe Gen 3.0 | 2012 |
| Haswell (4th Gen) | 22nm | 4/8 | 35-84W | 8-Series | LGA 1150 | DDR3 | PCIe Gen 3.0 | 2013-2014 |
| Broadwell (5th Gen) | 14nm | 4/8 | 65-65W | 9-Series | LGA 1150 | DDR3 | PCIe Gen 3.0 | 2015 |
| Skylake (6th Gen) | 14nm | 4/8 | 35-91W | 100-Series | LGA 1151 | DDR4 | PCIe Gen 3.0 | 2015 |
| Kaby Lake (7th Gen) | 14nm | 4/8 | 35-91W | 200-Series | LGA 1151 | DDR4 | PCIe Gen 3.0 | 2017 |
| Coffee Lake (8th Gen) | 14nm | 6/12 | 35-95W | 300-Series | LGA 1151 | DDR4 | PCIe Gen 3.0 | 2017 |
| Coffee Lake (9th Gen) | 14nm | 8/16 | 35-95W | 300-Series | LGA 1151 | DDR4 | PCIe Gen 3.0 | 2018 |
| Comet Lake (10th Gen) | 14nm | 10/20 | 35-125W | 400-Series | LGA 1200 | DDR4 | PCIe Gen 3.0 | 2020 |
| Rocket Lake (11th Gen) | 14nm | 8/16 | 35-125W | 500-Series | LGA 1200 | DDR4 | PCIe Gen 4.0 | 2021 |
| Alder Lake (12th Gen) | Intel 7 | 16/24 | 35-125W | 600 Series | LGA 1700/1800 | DDR5 / DDR4 | PCIe Gen 5.0 | 2021 |
| Raptor Lake (13th Gen) | Intel 7 | 24/32 | 35-125W | 700-Series | LGA 1700/1800 | DDR5 / DDR4 | PCIe Gen 5.0 | 2022 |
| Meteor Lake (14th Gen) | Intel 4 | TBA | 35-125W | 800 Series? | LGA 1851 | DDR5 | PCIe Gen 5.0 | 2023 |
| Arrow Lake (15th Gen) | Intel 20A | 40/48 | TBA | 900-Series? | LGA 1851 | DDR5 | PCIe Gen 5.0 | 2024 |
| Lunar Lake (16th Gen) | Intel 18A | TBA | TBA | 1000-Series? | TBA | DDR5 | PCIe Gen 5.0? | 2025 |
| Nova Lake (17th Gen) | Intel 18A | TBA | TBA | 2000-Series? | TBA | DDR5? | PCIe Gen 6.0? | 2026 |
Table Source: wccftech
News Source: wccftech, videocardz
Check out more: