The first performance, frequency, and power projections for the upcoming Zen 5 architecture, which is anticipated to debut next year, have been made public by Jim Keller, who collaborated with AMD on designing several Zen CPU architectures.
Next-Gen Zen 5 Architecture Performance, Power, and CPU Frequency Estimates from AMD's Former Chip Architect, Jim Keller
Jim Keller, the acting CEO of Tenstorrent, announced an event at an Indian university. He also discussed how their next-generation RISC-V architecture, which will be used in the forthcoming Ascalaon chips, is progressing. The next-generation Zen 5 CPU IP for the next-generation Ryzen & EPYC chips was shared by Jim throughout the keynote, along with some other both internal and external architecture performance predictions.
As we begin with the performance details, it's important to remember that they are only predictions and that the result may change significantly. Jim reports that Tenstorrent predicts AMD's Zen 5 core architecture will be roughly 30% faster than Zen 4. This represents a significant improvement over Zen 3 cores, as the Zen 4 architecture demonstrates. Zen 2 was a 6% improvement over Zen 1, while Zen 3 was a massive 30% improvement over Zen 2.
Each performance prediction relies on the SPEC2K17 INT workload, which might not be an appropriate measure for workloads encountered in the real world but is a metric frequently employed in assessing performance in the server ecosystem. The AMD Zen 5 is expected to outperform competing chips by 18 to 20%, including the NVIDIA Grace and Intel Xeon Sapphire Rapids.
The complete list of results is given below; keep in mind that these are all server-level products, not the ones that each vendor would sell to consumers:
Tenstorrent Scalar Competition Landscape (SPEC2K17 INT Rate 1 Performance Estimates):
| CPU LINEUP | ARCHITECTURE | SPEC RATE 1 | RELATIVE PERF |
| --- | --- | --- | --- |
| AMD Naples | Zen 1 | 4.30 | 100% |
| AMD Rome | Zen 2 | 4.56 | 106% |
| AMD Milan | Zen 3 | 5.91 | 137% |
| AMD Genoa | Zen 4 | 6.80 | 158% |
| AMD Turin | Zen 5 | 8.84 | 205% |
Tenstorrent anticipates AMD Zen 5 CPUs to be the first to approach or surpass the 4 GHz mark on the server platform, which makes the performance and charts of frequencies equally fascinating. It appears that Zen 5 will be the first to achieve this goal unless Intel can step it up with Emerald Rapids, which will be released later this year. With respective boost clocks of 3.70 and 3.80 GHz, the EPYC Genoa and Intel Sapphire Rapids families come close to this target. Still, it appears that Zen 5 will be the first to achieve it, barring an improvement from Intel with Emerald Rapids, which will be released later this year.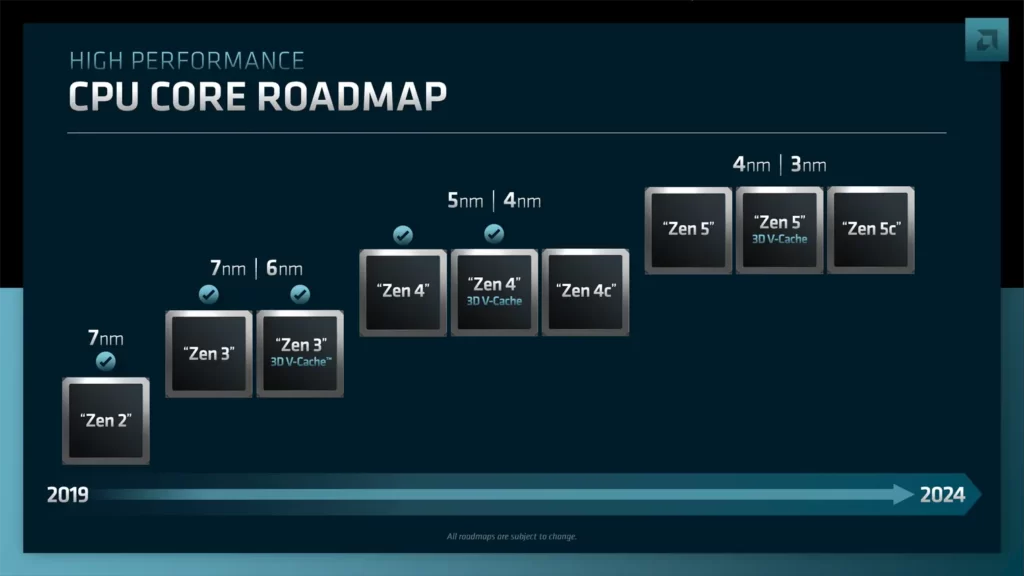 The estimated power metrics won't change, but the 30% improvement in output that we mentioned above will result in even greater efficiency because of a 4nm/3nm process node.
AMD Zen 5 in 2024 Will Include New Microarchitecture V-Cache & Compute Variants-
AMD has officially announced the expected debut of the new Zen 5 architecture in 2024. The processing unit was built from the ground up with a new microarchitecture focused on offering improved speed and effectiveness, a re-pipelined front-end, and the broad gap in addition to Integrated AI and machine learning optimization. The first generation of Zen 5 CPUs will be available in three flavors (Zen 5 / Zen 5 V-Cache / Zen 5C). Key characteristics of Zen 5 CPUs include:
Improved effectiveness and efficiency
Wide issue and new front-end pipeline
AI and machine learning optimizations are integrated.
Therefore, if we experience a similar increase in performance to what we did with Zen 3, users of Ryzen's consumer-level processors will find it extremely significant. However, multi-threaded efficiency might be even better as this particular performance metric only considers single-threaded prowess. Once more, it's important to remember that these are only estimates. Still, AMD has repeatedly shown that it can outperform initial projections by a sizable margin. Since Zen 5 is an entirely new architecture created from the bottom up, one ought to be more than optimistic.
AMD EPYC CPU Families:
FAMILY NAME
AMD EPYC VENICE
AMD EPYC TURIN
AMD EPYC SIENA
AMD EPYC BERGAMO
AMD EPYC GENOA-X
AMD EPYC GENOA
AMD EPYC MILAN-X
AMD EPYC MILAN
AMD EPYC ROME
AMD EPYC NAPLES
Family Branding
EPYC 11K?
EPYC 10K?
EPYC 9000?
EPYC 9000?
EPYC 9004
EPYC 9004
EPYC 7004
EPYC 7003
EPYC 7002
EPYC 7001
Family Launch
2025+
2024
2023
2023
2023
2022
2022
2021
2019
2017
CPU Architecture
Zen 6?
Zen 5
Zen 4
Zen 4C
Zen 4 V-Cache
Zen 4
Zen 3
Zen 3
Zen 2
Zen 1
Process Node
TBD
3nm TSMC?
5nm TSMC
4nm TSMC
5nm TSMC
5nm TSMC
7nm TSMC
7nm TSMC
7nm TSMC
14nm GloFo
Platform Name
TBD
SP5 / SP6
SP6
SP5
SP5
SP5
SP3
SP3
SP3
SP3
Socket
TBD
LGA 6096 (SP5)
LGA XXXX (SP6)
LGA 4844
LGA 6096
LGA 6096
LGA 6096
LGA 4094
LGA 4094
LGA 4094
LGA 4094
Max Core Count
384?
128?
64
128
96
96
64
64
64
32
Max Thread Count
768?
256?
128
256
192
192
128
128
128
64
Max L3 Cache
TBD
TBD
256 MB?
TBD
1152 MB
384 MB
768 MB
256 MB
256 MB
64 MB
Chiplet Design
TBD
TBD
8 CCD's (1CCX per CCD) + 1 IOD
12 CCD's (1 CCX per CCD) + 1 IOD
12 CCD's (1 CCX per CCD) + 1 IOD
12 CCD's (1 CCX per CCD) + 1 IOD
8 CCD's with 3D V-Cache (1 CCX per CCD) + 1 IOD
8 CCD's (1 CCX per CCD) + 1 IOD
8 CCD's (2 CCX's per CCD) + 1 IOD
4 CCD's (2 CCX's per CCD)
Memory Support
TBD
DDR5-6000?
DDR5-5200
DDR5-5600?
DDR5-4800
DDR5-4800
DDR4-3200
DDR4-3200
DDR4-3200
DDR4-2666
Memory Channels
TBD
12 Channel (SP5)
6-Channel (SP6)
6-Channel
12 Channel
12 Channel
12 Channel
8 Channel
8 Channel
8 Channel
8 Channel
PCIe Gen Support
TBD
TBD
96 Gen 5
160 Gen 5
128 Gen 5
128 Gen 5
128 Gen 4
128 Gen 4
128 Gen 4
64 Gen 3
TDP (Max)
TBD
480W (cTDP 600W)
70-225W
320W (cTDP 400W)
400W
400W
280W
280W
280W
200W
News source: wccftech.com