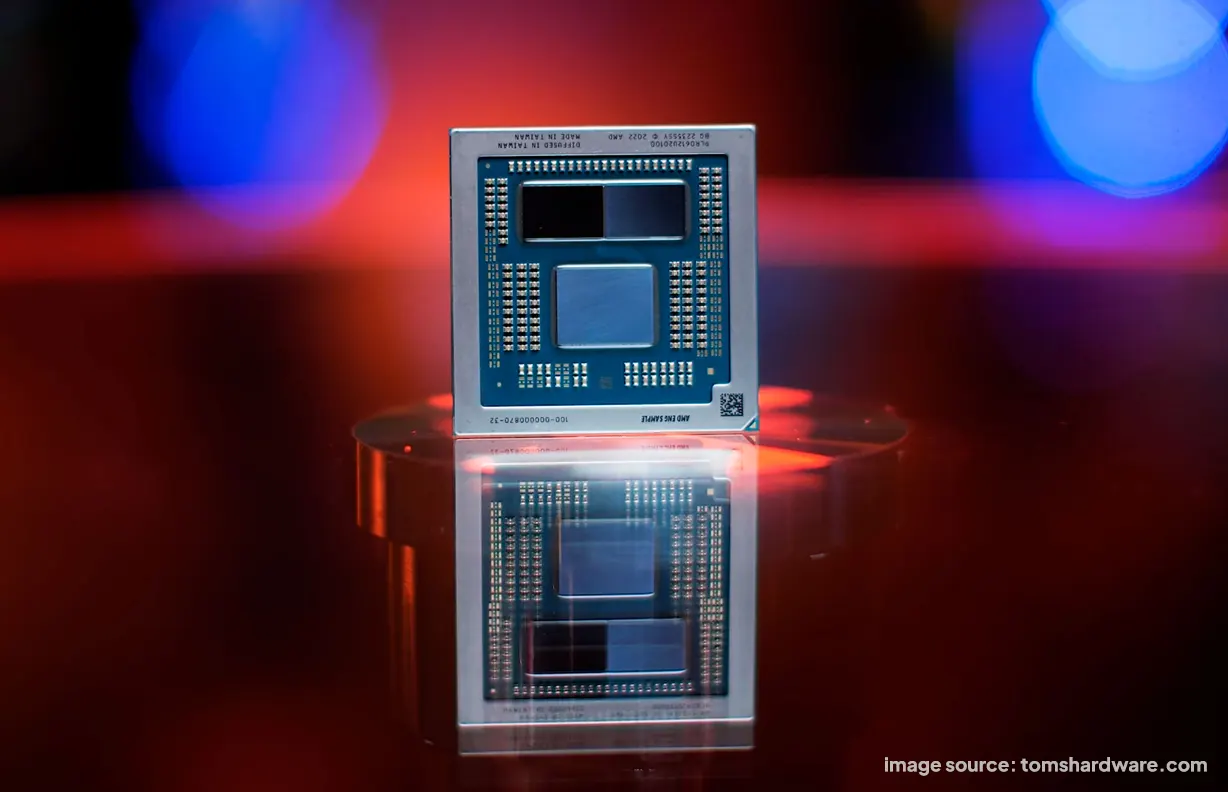 Upcoming AMD Ryzen 7000HX3D Series: Enthusiast-Grade Laptop CPUs with Zen 4 Core Architecture and Innovative 3D V-Cache Technology.
AMD has been gearing up to introduce a new line of CPUs for the laptop segment, although specific details are yet to be revealed. Currently, the company provides top-tier Ryzen 7045 "Dragon Range" chips catering to enthusiast designs, but soon, laptops will also benefit from the 3D V-Cache technology.
According to a Weibo tech account (via HXL), the first alleged specifications of an upcoming Ryzen 7045X3D CPU have surfaced. This processor boasts 16 cores based on the advanced Zen 4 core architecture, along with 32 threads. Notably, it supports PBO overclocking and tuning capabilities. However, the most intriguing feature is its 3D V-Cache, offering an impressive capacity of 128 MB. Similar to the Ryzen 9 7950X3D, this chip also adopts a dual-CCD configuration, featuring 64 MB of stacked cache on one of the two CCDs and the remaining 64 MB cache from the two Zen 4 dies.
The information provided does not include specific details regarding clock speeds or power ratings. However, @Olrak29_ later shares a specs sheet of the ASUS ROG STRIX SCAR 17 "G733PYV-LL045W" gaming laptop, which offers more insight into the AMD Ryzen 9 7945HX3D chip.
The clock speeds of the AMD Ryzen 9 7945HX3D reach an impressive 5.4 GHz, matching those of the Ryzen 9 7945HX. The chip also offers a configurable TDP range between 55W and 75W. In comparison, the desktop variant supports a higher boost clock of 5.7 GHz but has a higher base TDP budget of 120W.
The laptop featuring this processor is a top-tier model, equipped with an NVIDIA RTX 4090, 32 GB of DDR5 memory, and a 240Hz IPS display. Currently listed at the Australian retailer, Computer Alliance, the price is set at 5599 AUD, approximately $3800 US, though this pricing is likely subject to change as it is preliminary at this stage.
The high-end 3D V-Cache boosted Dragon Range CPUs are poised to compete fiercely against Intel Raptor Lake-HX and the upcoming 14th-gen refresh parts. With their remarkable gaming performance and efficient operation, they present a strong challenge to Intel's power-hungry chips. The battle between these processors is sure to be intense, offering users an exciting choice in the high-performance laptop segment.
AMD Ryzen 9 7945HX3D – 16 Core, 32 Thread, 5.4 GHz, 128 MB L3 Cache, 55-75W TDP
AMD Ryzen 9 7945HX – 16 Core, 32 Thread, 5.4 GHz, 64 MB L3 Cache, 55-75W TDP
The listing and leak solidify the notion that AMD is indeed integrating 3D V-Cache into their high-end Ryzen 7000 laptop CPUs. Alongside the Ryzen 9 7945HX3D, there will be additional SKUs like the 8-core Ryzen 7 7745HX3D and the 12-core Ryzen 9 7845HX3D. While the existence of a 6-core 3D SKU for laptops remains uncertain, we can anticipate the release of these chips and the corresponding laptops in the near future, as the product specifications for various high-end laptops have likely been finalized by now.
AMD Ryzen 7045 "Dragon Range" Laptop CPUs:
| CPU NAME | FAMILY | PROCESS NODE | ARCHITECTURE | CORES / THREADS | BASE / BOOST CLOCK | L3 CACHE | IGPU | IGPU CLOCK | TDP |
| --- | --- | --- | --- | --- | --- | --- | --- | --- | --- |
| AMD Ryzen 9 7945HX3D | Dragon Range-H | 5nm | Zen 4 | 16/32 | 2.5 / 5.4 GHz | 128 MB | Radeon 610M (RDNA 2 2 CU) | 400 MHz | 55-75W+ |
| AMD Ryzen 9 7945HX | Dragon Range-H | 5nm | Zen 4 | 16/32 | 2.5 / 5.4 GHz | 64 MB | Radeon 610M (RDNA 2 2 CU) | 400 MHz | 55-75W+ |
| AMD Ryzen 9 7845HX | Dragon Range-H | 5nm | Zen 4 | 12/24 | 3.0 / 5.2 GHz | 64 MB | Radeon 610M (RDNA 2 2 CU) | 400 MHz | 45-75W+ |
| AMD Ryzen 7 7745HX | Dragon Range-H | 5nm | Zen 4 | 8/16 | 3.6 / 5.1 GHz | 32 MB | Radeon 610M (RDNA 2 2 CU) | 400 MHz | 45-75W+ |
| AMD Ryzen 7 7645HX | Dragon Range-H | 5nm | Zen 4 | 6/12 | 4.0 / 5.0 GHz | 32 MB | Radeon 610M (RDNA 2 2 CU) | 400 MHz | 45-75W+ |
News Source: wccftech.com